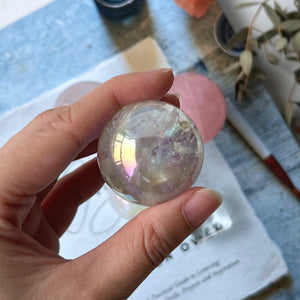 Angel Aura Quartz Sphere
Angel Aura Quartz is the name given to Quartz that undergoes extreme heat (1600*F), and then coated with a special blend of metals such as Platinum, Gold, and Silver.
Angel Aura Quartz is an extremely high vibrational stone. This magic mineral can provide enough energy to fill environments with endless rays of joy, happiness, and uplifting energy.
The energies that radiate from this stone provide a protective shield around ones aura that helps provide inner peace, mental clarity, heightened intellect, and pure serenity.
Measurement: 3.5cm diameter